Los Angeles, CA–California's outgoing Attorney General Xavier Becerra announced an investigation has been launched into the Los Angeles Sheriff's Department. The news comes after continued protest against LASD in South Central, for multiple officer involved killings during the height of George Floyd protest last summer. The L.A County Coroner has requested two inquest into fatal officer involved shootings–for both Fred Williams and Andres Guardado. The protest against the LASD in South Central have been led by local grassroots organizations, accompanied by many non-Black Angelenos who traveled to the community to show support.
Becerra has been named head of the Department of Health and Human Service by President-elect Joe Biden.
Black Lives Matter also wrote a letter along with the ACLU in October requesting the Attorney General's Office launch an investigation into the Sheriff's department. According to Becerra, the investigation is to determine if LASD has violated the law or the rights of Angelenos. He notes that there are "serious concerns and reports that accountability and adherence to legitimate policing practices have lapsed at LASD."
A report published recently by Loyola Marymount's Center For Juvenile Law & Policy, found that LASD has multiple deputy gangs in which members are encouraged to engage in violent behavior and misconduct. The report is based on internal affairs interviews of deputies, internal memos and other sources.
The issue of deputy gangs inside the Los Angeles Sheriff's Department has become an issue of huge concern for inner city communities of L.A. Secret gangs among officers in the Los Angeles Sheriff's Department were exposed after the 2016 Compton shooting of Donta Taylor.

Taylor's family filed a $50 million dollar lawsuit and their lawyer stated the deputies that killed Taylor were part of a more violent aspect of policing. 
"You earn your "ink" by doing violent crimes. It encourages violence. It also encourages a code of silence."
Taylor's family received a $7,000,000 settlement, one of the largest settlements in recent history—and at least one the officers involved in Taylor's shooting was forced to reveal his tattoo during trial.
It is important to note that the LASD is not currently being investigated for a specific case. Nor has the Attorney General currently made any determinations about specific allegations or complaints against LASD.
Read More: LASD 'Executioners': Compton Mayor Aja Brown Shares She Was Pulled Over And Questioned By Compton Sheriff's
According to the Attorney General's office, as opposed to a criminal investigation into incidents, a "pattern or practice investigation" typically works to identify and, as appropriate, ultimately address potentially systemic violations of the constitutional rights of the community at large by a law enforcement agency. 

The Attorney General encourages anyone with information relevant to this investigation to contact DOJ's Civil Rights Enforcement Section at Police-Practices@doj.ca.gov.
Following the news, Los Angeles Sheriff Alex Villanueva who has been criticized for being highly unreceptive to the request of community oversight committees and fostering an outlaw culture among his deputies, released the following statement.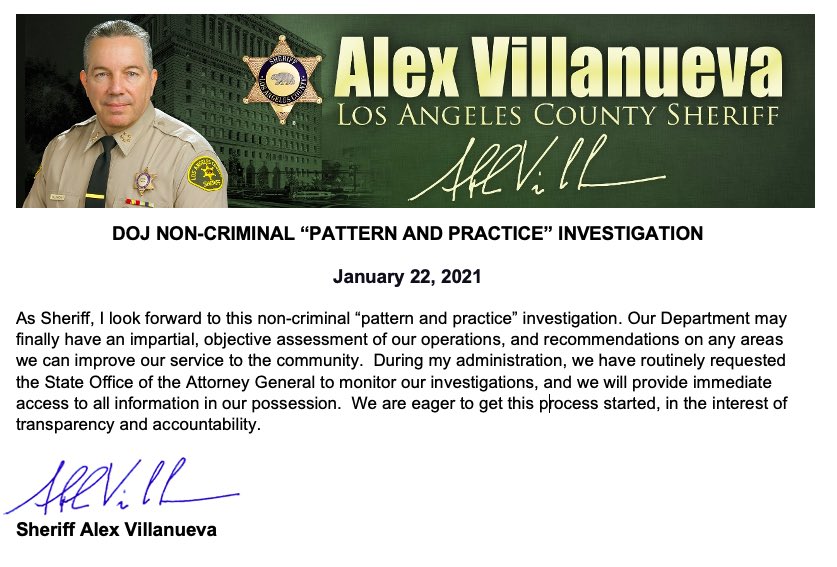 Read Full Press Release Here: Attorney General Becerra Launches Civil Rights Investigation of the Los Angeles County Sheriff's Department
In a motion co-authored by Mark Ridley-Thomas and Sheila Kuehl, the Los Angeles Board of Supervisors voted to explore ways to remove Sheriff Villanueva from Office Nov. 2020.
Villanueva was championed as someone who would lead LASD from their shattered image after which landed former Sheriff Lee Baca in prison.
Baca, 76, was convicted May 2017 to three years in prison on conspiracy to obstruct justice, obstruction of justice and making false statements. The LASD department became the center of public scrutiny after the FBI launched an investigation in beatings and brutality of inmates at Men's Central Jail in Los Angeles, and reports of guards sneaking in contraband. Many Angeleno's are hoping Villanueva will see a similar fate.